Northern Colorado DogWatch
It's all about your dog!
We are a family owned business dedicated to keeping your pets safe in their yards so you can have peace of mind. We proudly service Northern Colorado and the Front Range, including parts of Southern Wyoming. Our pet loving team takes special care with every DogWatch hidden pet fence we install because we know your pet is family and important to you. Each fence is customized to fit your needs and ensure your pets safety.
Meet our team:
Ryan Schatz is the owner. He handles the installations and pet training. Ryan grew up in North Dakota and has a long history raising German Shorthaired Pointers. He is passionate about giving dogs the best quality of life.
Amberlyn Schatz is Co-Owner. She takes care of scheduling, customer service, and bookkeeping. She is a Colorado native and has a strong love for animals. We have a family of five and have lived on the Front Range since 2000. We love all the outdoor activities Colorado provides and enjoy staying connected to our community.

DogWatch has been keeping pets safe since 1990 and has the most reliable hidden pet fences and training products on the market. Consumer's Digest rates DogWatch #1 Best Buy. DogWatch uses FM radio which provides the strongest signal and reliability. They also have a 2 year battery life, far exceeding the competition. DogWatch introduced the SmartFence in 2017, allowing you to stay connected to your pet while you're away. It's simply the best pet containment system on the market and we are proud to provide it to our pet loving community.
We hope to have the opportunity to help keep your pet safe.
Service Area
We provide services to customers in the Northern Colorado Front Range and Southern Wyoming area, including the towns and cities of Allens Park, Arvada, Boulder, Black Hawk, Brighton, Broomfield, Central City, Cheyenne, Denver, Estes Park, Erie, Firestone, Fort Collins, Golden, Granby, Grand Lake, Greeley, Lafayette, Laramie, Longmont, Louisville, Loveland, Lyons, Rollinsville, Thornton, Westminister, and Winter Park, Colorado and the surrounding area.
Get a Free In-Yard Estimate!
Our representatives will meet you at your home for a free in-yard estimate. We will help assess your needs and customize a solution that suits both you and your pet. Call today or schedule an appointment to get things started!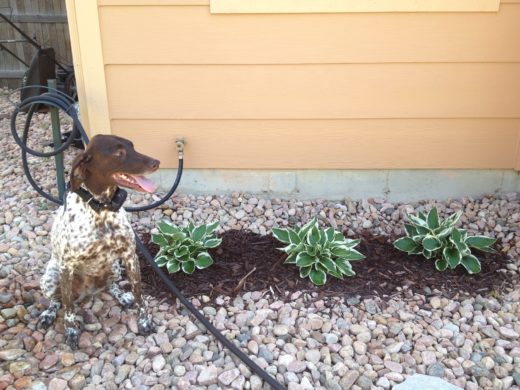 Why Choose Northern Colorado DogWatch?
1. Our number one concern is the safety and well-being of your pet. We provide the support you need to ensure successful training and happy containment.
2. We provide a proven PetFriendly™ training program. We train your dog (or cat) to recognize the boundary flags and the audible warning signal (or vibration) before introducing the correction.
3. We are experienced professionals committed to providing excellent customer service and support. We strive to service every customer promptly and courteously.
We want to hear about your experience! Write us a review on Google+
Simply the best. No getting around it.™
Another reason to choose Northern Colorado DogWatch is that we are an authorized DogWatch dealership. The DogWatch Hidden Fence is the most technologically advanced and the easiest to use, and it is backed up by a no-hassle Lifetime Warranty from a company with more than 25 years of keeping pets happy and safe.

What makes us Simply The Best?
---
Customer Testimonial
The results have been phenomenal with our three labs. They have learned the boundaries and they do not cross them. The peace of mind and the reduction of stress - on both humans and dogs - has made all the difference in the world.
John N.